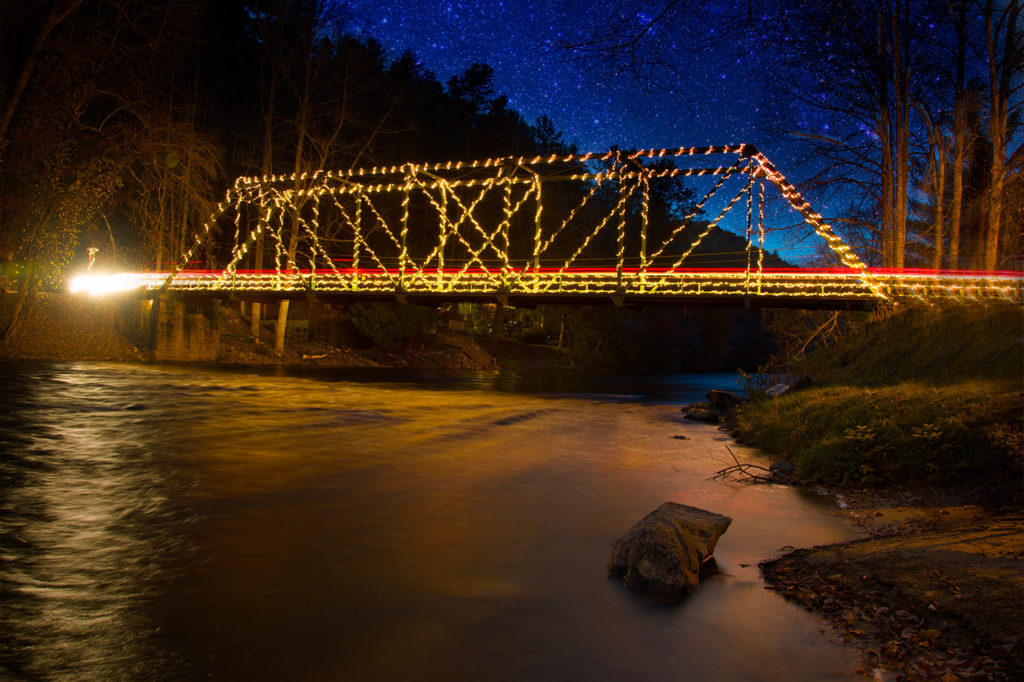 The Shallowford Bridge – Crossing the Toccoa River in Fannin County, Georgia and more than 100 years old, built in 1918, the bridge forms part of the Benton MacKaye Trail. It is 175 feet long and 11 feet wide and a drive across is is a time capsule to the past. The name comes from the 'shallow ford' a few 100 yards up stream from the current bridge, that because it was shallow enough, allowed travelers to cross the river. Of note – in the pre-1918 era, you would cross over on an angle up stream or down stream when fording the river to lessen the effect of the current on your wagon or horse. It is not recommended that you try this in your car.
The lighting of the bridge this year is to commemorate the 100 years since its construction and to raise awareness. The goal is to keep the bridge for foot traffic as opposed to taking it down when the proposed new bridge is built in the near future.
There are many old bridges in Fannin County, each of whose history bares witness to the the distant past. Some of these bridges are no longer used, yet they still stand as sentinels to what once was. You can find them if you pay close attention. In fact, a road trip through Fannin County in search of these old bridges makes for a pleasant drive on a Sunday afternoon. They all need to be preserved and embraced as part of the heritage of this county.
These images were made shortly after the lighting of this historic bridge. Many people have asked how they might get a copy of the images so I have made for 16″x24″ Canvas Prints in commemoration of the event available for $75.00.
I do not sell my work, so I have arranged that 100% of the proceeds from the sale of these prints will be donated to Feed Fannin, the volunteer organization working to educate and encourage the North Georgia community towards self-sufficiency while providing food for those in need.
The prints are available at the Iron Bridge General Store & Cafe, located directly across from Shallowford Bridge at 8436 Aska Rd, Blue Ridge, GA 30513. (Hours: 8:00a.m. to 500 p.m Tues-Thur; Friday & Saturday 8-7pm; Sunday 8-3; Closed Monday). Click Here for a map.